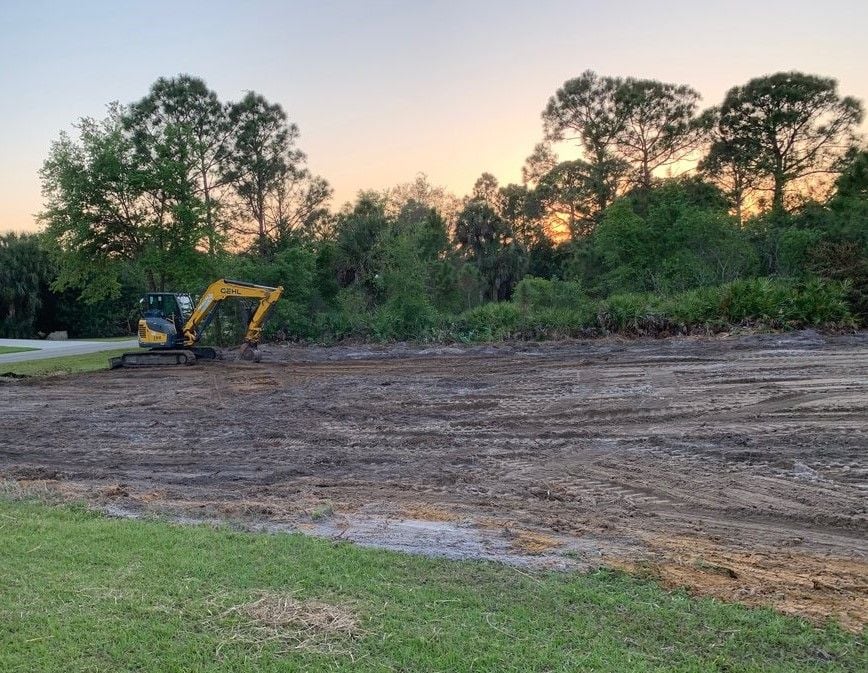 Florida VEGETATION CONTROL
Florida Vegetation Control is a local land-clearing business in Punta Gorda, FL that's had the pleasure of serving hundreds of residents and business owners throughout South Florida and the Keys since 2005.
Our land-clearing services including lot-line clearing where the neighboring vacant lot growth is overtaking your home. In this case, we will cut back a 10 to 15-foot fire break to get the growth away for the home. Also, consider us for tree service and site prep or bucket work.
No job is too big or too small
Our combination of experience and equipment always results in customer satisfaction. Our rubber track Caterpillar machine has a forestry-cutting attachment that mulches and grinds vegetation to a wood chip consistency leaving a park-like setting.
We are a local company that offers high quality property transformations at affordable rates. Pricing is custom to each project and are determined by factors including: size and density of the job. Give us a call today for a free quote.
Free Estimates 7 Days A Week!
PUNTA GORDA, FL

PORT CHARLOTTE, FL

ENGLEWOOD, FL
Jerry and his team did a amazing job! I paid cash a few months in advance and the property came out great! Very trustworthy! Definitely will continue to use his services!

Definitely will be using them again for future projects.

Excellent Job in a timely manner for a reasonable price Thanks so much!

Jerry does terrific work!!! My 2 overgrown lots look like a park now. I would give him 10 stars if i could:)

We had our two side by side lots cleared of dense underbrush allowing us to walk our property. We can now slowly improve our property with plantings and landscaping at a relaxed pace. Jerry was professional and easy to work with. He's a busy guy so people will need to be patient. His service and prices are worth the wait.

Jerry was definitely attentive, informative. His pride on getting it right shows in the quality of three clearing jobs well done for us. Robert Chang Heathcote

Jerry is very concerned with doing a great job for you and does, He was very helpful in the permitting and knowledgeable in what is needed I will continue to use him for my future needs on a adjoining lot. Thanks Jerry

Jerry was great. Reasonable pricing and because I don't live in the area, he sent before and after pictures. Did an awesome job and even had to deal with pesky neighbor and he was still pleasant. Highly recommend this company without any reservations.

Jerry, the owner, is a delight to work with. We own two water front vacant lots in Deep Creek, but until Jerry cleared and mulched the trees and brush, there was no view of the lake from either lot. Now both lots have a wonderful view of the lake thanks to Jerry's expertiese. I strongly recommend Jerry and Florida Vegetation Control.

Jerry did an excellent job getting my lot cleared. I have been fighting the dreaded brazilian/mexican berry bushes which had turned into large trees. He made my job so much easier with his machine. Highly recommend his services to all.

Punctual, good job, good service and takes directions well.

- Andrew C-Shepp. 9/12/2019

I recently hired Jerry to do some clearing on my property and he did a terrific job. He was easy to deal with and gave me a fair price for performing the work. He showed up on time and was very diligent about the work he performed. I would definitely hire Jerry again if I need any more work done.

- Dan Gallagher. 9/4/2019

Both me and my family have worked with Jerry and Florida Vegetation Control on land clearing for 2 properties, one in Port Charlotte and one in Bokeelia, and on both projects we have been extremely satisfied. They have done excellent work and cleared the lots above our expectations and both times extremely quickly. We would highly recommend them to anyone looking for exceptional and quality service.

- Anthony Santora. 7/26/2019

From beginning to end Jerry and his team were extremely professional and did a fabulous job clearing our land! I was not sure if we needed a permit but Jerry did and he made arrangements for that. The permit took about a month to get so plan for that. It's a Port Charlotte thing but I am completely satisfied with their service!!

- Jeanne Harstad-Austin. 7/22/2019

I know your not going to believe me, but here it goes. Jerry calls you when he says he will. Jerry shows up when he says he will. Jerry stays on top of things, he contacted me to let me know when he would be cleaning up my lot and he did a great job. I felt bad he was out there working in all that rain. one last thing, Jerry is the type of person that you would like to have a beer with. 6 STARS

You could not walk into my lot because of the heavy vines and brush. Jerry worked in the rain, bugs, heat and humidity to grind it all down into mulch. Amazing.

- Steven Crane. 7/16/2019

Jerry is FANTASTIC to work with!! He is genuinely concerned about his customers and it shows in everything he does. You will not be disappointed working with this company.

- lonnie barton. 7/16/2019

When you are informed of every step a service company tells you, and it is refreshing that they live up to every word stated to you. Jerry and his team, were polite, professional, and experienced with their work. 5 stars does not begin to state their way of work ethic and smiles they will bring to my kids and grand-kids for many years to come, 9 plus star would be better . Thank you Jerry

Jerry did an amazing job mulching our two lots. He made sure we were happy with the end results. He communicated promptly with us to let us know when the work was taking place and when it was compete. We would definitely recommend him to anyone!

Nice guys and did a great job!

- Candice Carey. 1/19/2019

Dealing with Jerry at Florida Veg Control was a pleasure. They did a great job at a fair price and always communicated with me so I was always aware of the status of the job.

I have never used a company to clear property before. These folks are great. I spoke with the owner Jerry and shared the scope of the work. We agreed on a price and time. Jerry sent a very capable employee, did the work on time and for the price agreed to. I will use this company again. I would refer them to family and friends.

- Brad Rutherford. 9/8/2018

It was an amazing job, I would highly recommend Jerry. He posted before and after photos and it was hard to believe it was the same property.

Very pleased with the professionalism and punctual service. Once permits were issued, work was begun and completed immediately. Highly recommend this company.

- Kyle Browning. 6/20/2018

Jerry and his crew did a fantastic job working with and coordinating with me and the City Arborist to thoroughly clear my lot at a great price and per city code. I wouldn't hesitate to recommend him. Thanks, Jerry!

Great work despite the obstacles Jerry's team endured on my lot! The photos and communication was 5-star worthy. Pleased with the outcome and professionalism of this company!

- PATRICK TAMAKLOE. 5/3/2018

- OMAR ALMEIDA. 2/23/2018

I highly recommend Jerry and his crew. Reasonable, courteous, prompt and efficient. They came highly recommended by a neighbor and we know why.

Jerry did a great job! From his communication, to the final product. Would strongly recommend.

- Margaret Strong. 1/16/2018

My experience with Jerry and his company, Florida Vegetation Control, was excellent! From the first phone call to the completed the job, Jerry was first class and the CONSUMMATE professional. If you haven't seen that word in a while look it up, because I can't describe the service any better. I'm a former contractor and I currently do inspection/consultant work. I've been involved in construction for a large part of my life. I just wish all contractors would take a few pages out of Jerry's book. Traits like timeliness, professionalism, expertise, friendliness, and a do-whatever-it-takes attitude come to mind. He puts his customers' first which means a great deal. He and his company went out of their way to expedite a mulching job for us, and he DELIVERED on everything he said he would do. REPEAT - he delivered on everything he said he would do......so little of that these days. Don't hesitate to use Jerry and Florida Vegetation Control for any of their land clearing services. In my experience he's a man of his word. I'll be using him and referring his company in the future. As a side note they're competitively priced, but I'd have no problem paying a little extra for their great service.

- Paul Maggiore. 1/4/2018

When you need to get a job efficient and cost effective; there is only one call you need to make! I am very impressed with this business transaction. I plan to call them each time I need my future lots cleared.

- Brian Alletto. 9/16/2017

I was very pleased with the work that was done if your looking for a company who will answer there phone keep there word, honest and competitive pricing this is the company you are looking for

Jerry and the crew did great work . Cleared the overgrown pepper trees from around my house . Cleared and turned into Mulch . Very honest and hard-working people . Did a great job . Will absolutely recommend them to anyone who is looking to clear the trees around thier property

- Ayman Sotari. 8/20/2017

If you are searching for a local and competent company to hire for your land clearing needs do yourself, your lot, and your wallet a great service and call Jerry ! They specialize in clearing full lots as well as clearin sidelines of homes. Pepper trees? No problem. The clear it all!

Jerry and his fine crew have done several projects for me. They are very professional and their fees are the best out there. I would never consider any other company for my land clearing needs.
10% Off LAND CLEARING for all new customers!
New Customer's get 10% off lot clearing and free estimates. Give us a call now to claim!